Well, I turned 30 in March... I celebrated it with the deepest love in my life "My Mum". She visited the U.S.A for the first time. We explored Memphis, New Orleans and of course Nashville. For her to come over and just come to my apartment and tell me "You're doing ok, you got this", was everything I needed. She brought me a nice fancy vacuum and took me on a road trip of a lifetime. I have to say it was one of the most special memories I've made with my Mum in years. Gosh, I'm so grateful to have someone so incredible in my life like her... I LOVE YOU MUM.... here are some memories from our trip.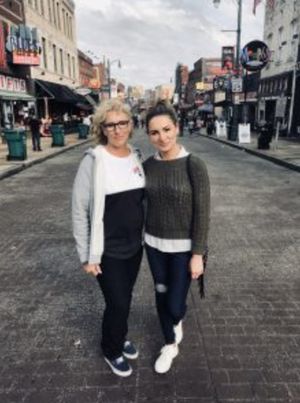 It was a Tuesday afternoon, my best Nashville buddy Kaylor and I decided to go to a bar called Kung Fu to drink soda, sit in the sun, play some arcade games and talk. Kaylor is fresh to Nashville all the way from Arizona. We met last summer, and somehow we became everything we both needed here in Nashville. I put $1 in a vending machine that prints out a fortune card for her and out spat strangely enough everything she needed to hear that day. 
I giggled and said Kaylor, this year I'm going to start dating the man I'll marry, but I'm going to have one hell of a summer if this is my last "single" status summer. I put another dollar in the machine and out spits a ticket that says "Your wish has been granted". We will wait and see what the future holds. 
Love has always been a double-edged sword for me. Its always ended bittersweet. Something in my heart telling me it's never been right, or when I've thought it was right timing was always wrong, still unlucky in love. 
Kaylor came at a time when I was in a dark place this winter. Her 20-year-old sas, mixed with an old soul was the first confronting loving, honest hard talk I've had since moving to Nashville. She said to me "I wish you could see yourself how I see you" as she felt my confidence had disappeared, I was hurt by some of my closest friends, I was stressed trying to make ends meet and my health was being sacrificed. 
I had recently distanced myself from two people who seemed to be notably careless with my trust and my heart, and I felt like I was evaluating myself, analyzing how I became that worthless to someone. 
Last year I thought I might have found someone special. I called Mum "I think I've found the one." It turned out, I wasn't "the only one" and when he explained to me that I was his favorite and the other girls don't mean anything... I was left question myself thinking "If I meant anything, he wouldn't behave like that". So I closed the door on that relationship. 
I think every hurt inspires something within us. It's that motivation to dust yourself off, the be challenged yet again to prove to ourselves that we can keep going with this crazy strong resilience we all seem to have, and yes, for me, it also inspires me to create. "If I Meant Anything" was written last November and has finally been released as this months demo sessions project on iTunes, Apple Music and Spotify. I love being this honest in a song; it's like ripping my heart out and letting people examine it. 
Please add it to your playlists, follow me or purchase, share with your friends. Every little bit helps. THANK YOU. xxx