"You don't come to Nashville to fall in love", my gorgeous friend Gina Venier shouts out as she takes another sip of her tall glass of Sangria. "But if you do, it's the icing on top," she says as she looks at her partner. 
It's the first of the year, as my friends and I have a rare and spontaneous hangout day. I'm having flashbacks of topping off a bottle of red wine, layering up for the -11 degree Celsius chill outside and climbing up the illuminated stairs to Demonbreun street to view the midnight new years fireworks trapped behind Union Station.... it was a massive fail. 
I didn't attend the free concert of Keith Urban playing in the park (my body was too cold for that). I didn't get a new years eve kiss, I just wanted to stay at home. 
Our new years day conversation continued over many hours at our local bar on the deceivingly sunny yet cold day. "We all move to Nashville to chase our dreams; we have all left people behind, we have given up love many times just to have a chance at tasting this. We are all selfish, we have found comfort in the unknown and unstable, we are either use to the idea of being alone or don't ever feel lonely it from the attention our craft brings us. 
I wrote a song in 2016 called "Trying To Get To Georgia" about how men usually have to get where they are going or achieve certain things before they are ready to settle down. "Someday I'll be at your door when I become the man you're looking for; I'm still trying to get to you Georgia". I've often felt the same way. I'll be ready for love when I finally get to where I'm meant to be, if that's Nashville or if that's my music. 
Marking 12 months of living in this beautiful country in one of the most exciting cities in the world. I thought I was meant to find love here; I always thought that was why I had such a strange pull to move to Nashville. "That somehow my person was here waiting for me". Last year I kissed less than a handful of men, with fingers to spare (lame right), 1 became an ex, 1 became a friend, and 1 became a heartache and the muse for a few songs.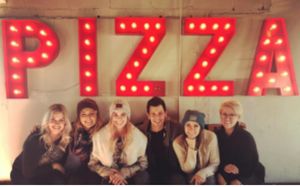 Something came to my attention this month. I went on a tinder date, yep the first tinder date I have been on in maybe three years. He was handsome, flirtatious, hilariously funny and the date lasted 5 hours (until we finally got kicked out of the bar). We both mirrored each other's drive from knowledge and business. Throughout the night, he paused and said, "I don't think you want a relationship". I asked, "why do you say that". He suggested that I'm so driven to keep experiencing new things, adventure and pave my career that if I got into a relationship, I would probably have a part of me questioning if that's what I truly wanted. 
The thought of his observation has resonated endlessly. I've never felt like my ex's were "the one." Throughout relationships, I have always questioned if that was what I wanted, but having a love for someone so deeply I could never imagine them not being apart of my life. Thankfully the important ones have never left and have become my dearest friends. 
Leaving a man in Australia with an argument of "I've woken up every single day thinking about Nashville and walking towards it for the past few years, I have to leave you and chase this dream" his response was "I've woken up every day thinking of you". I felt like such a selfish person like I've never been able to match the love someone gives me because the fire in my heart to explore and create is such a big part of who I am. 
I do desire that kind of love. I would love to feel it. Coming up on my 30th birthday this year, I'm an old maid, I will have my 5th year in a row of a single valentines day. I found I'm so good at being single, that it would take a man a lot of effort to firstly get my attention. I write 4 days a week and play at least 7 shows, between I am managing my bookings, emails and book keeping, if a guy doesn't stand out enough to grab my attention to pull me away from my work, I honestly will forget to respond to his text messages. No one has ever made me love them more then I love music, I'm such a jerk for admitting this. 
You're probably wondering why I'm being so translucent about my loveless love life, but since it's Valentines day this month, I thought what better time to reach out to the dreamers and the single folk out there and hopefully get some reassurance that I'm not the only one who is walking this journey alone. 
I guess until I get where I'm meant to be, until I feel a need to stop searching and I'm ready to settle or when or if someone ever makes my heart flutter the way music makes it flutter. Music will always be the love of my life, it's a bittersweet curse. 
This month saw the launch of the "Demo Sessions" on all streaming services. A new acoustic song will be available the first Friday of every month. This month with valentines day coming, I have decided to release "Trying To Get To Georgia" written from a males perspective, inspired by my realization that someday I hope I'll be ready to give my heart to someone when I become the person my someone is looking for. 
Please check it out on Spotify, apple music or you prefer streaming platforms. Share and add it to your personal playlists and please don't forget to follow my artist page.