The past month I have traveled many miles. A quick trip to Indiana for a show with my sweet Jessie Brown. Virgina for a house concert. West Virgina, Kentucky, and Alabama for a radio tour. Wisconsin, experiencing my first tailgate and recharging my little spirit in a cabin in the woods. I shot my first gun, saw my first bobcat, heard coyotes in the night. I spent a lot of time removing myself to sit in the quiet, journal and just have a little cry.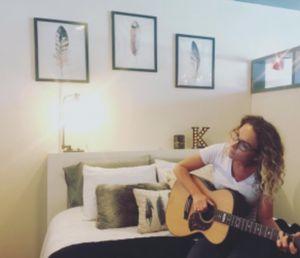 I reflect back through my life so far and feel so blessed for this year. Moving to another country, another culture, away from every comfort I have apart from my guitar has been exciting and hard all in one. However, I feel like life had prepared me for this, nothing will ever challenge me as 2012-2013 did. Being grateful for that chapter in my life as I watched everything come crashing down like dominoes, I faced a lot of my fears; now nothing scares me. Even this month when anxiety reached a crescendo waking up 3-4 nights a week gasping for air fighting off panic attacks, I knew I was safe, and everything was going to be ok. 
Moving into my apartment right in the heart of the city has been a game changer for me. Can you imagine running continuously for three years without having a space of your own to just rest, like properly rest and be "yin." I'm such a crybaby; I find myself at night time enjoying my solitude with little tears rolling down my face, after so long, I did it. Having a lot more space in my life has brought me back to the feeling I had when I was starting this journey. Living in Newcastle, I would play gigs on the weekend and sit in my bedroom drawing and creating in attempts to not spend money and grow my skills. I feel like I'm me again, and not a guinea pig on a treadmill. Anxiety doesn't even linger, I'm happy, I'm positive, and I'm whole. It's almost like my Nashville journey has finally just begun. An entirely new chapter, where I feel like I'm finally home. 
Next week I'm out to Arkansas and Oklahoma. Checking two more states off my list. I am looking forward to November where I will spend a few months in Nashville. Nestling down for winter, I won't be going home for Christmas. I think I might enjoy it alone in my new apartment this year, trying to see that as a positive rather than feeling sorry for myself. Christmas in the city of my dreams sounds quite magical to me. 
I am so blessed for this crazy adventure.