Since my last blog, I have play 68 shows, sat in 20 co-writes, traveled 5 states, played the Bluebird Cafe, supported Lonestar, attended my first county fair, explored Oshkosh, Chicago, Memphis, played a show at the Bluebird Cafe and saw a once in a lifetime solar eclipse.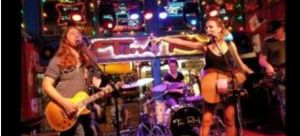 I feel a strange sense of inner frustration and anxiety like I'm being pushed and pulled from one place to the next. All of which is my own doing, as I book my calendar full. I'm craving a greater sense of self right now, but for the past three years, music and Nashville are all I've set my focus on. Taking a day off for me means facing the echoes of feeling lost. I don't even know who I am with out working on music every waking hour. I don't know what I do for "fun." I find myself clinging onto people to entertain me, keeping me busy. Thankfully deepening friendships but knowing deep down that I've lost my comfort in solitude. 
In moments of solitary I've discovered my passion for photography, I become self-aware; I connected with the spirit and established my sense of faith. To slow down and reconnect with that part of me scares me a little. 
This month I'll be coming up on living in the USA for eight months. I've finally found my feet financially. My focus on security has been my primary motivator waking up in the morning. Building a business from scratch with two months grace was incredibly challenging. However, I feel proud to have achieved that. 
Anthony, Deric and I in Chacargo at "The Bean" 
Exactly eight months after moving here I will get the keys to my very own studio apartment. This month I'll be moving into "The Gulch" which is located right in the city between Downtown and Music Row. It's been four years since I've had my own place without renting a single room out. However, I've always lived with boyfriends. This time I get to do it on my own. I have no furniture, and my belief of not getting credit means I'll buy a nice fluffy rug a table and chairs off Craig's list and slowly wait for bargains to come up on a sofa. 
Living 20 mins out of Nashville I sometimes drive the distance two times a day. The potential to save a whole hour a day means I'm going to enjoy an afternoon nap more regularly. 
I have met two incredible people in my life. Jessie Brown has become my Nashville bestie and her husband Deric who has taken the roll as my Nashville brother. Since finding these guys Nashville definitely feels like home. Knowing that my family in Australia have all moved on to their own lives and finding family here that are walking the same path as me has been such a comfort. 
Emotionally I feel like I'm on top of everything. I miss home like crazy at times. I constantly feel "out of my comfort zone" however I've lived through this feeling before. I love being challenged, I love being given a chance to evolve. I love this city and I love being able to express myself every day in the writing room and not feel like a weirdo for needing to do so. 
Life is sweet, I count my blessings and hold my breath as this crazy adventurous ride keeps rocking my world. 
Thanks for hanging out. x