To move oceans away from home and plant my roots in the soil of our big brother's homeland (The USA) I didn't think I would experience that much of a culture shock. 
Australia has become a little USA itself in regards to our fascination with celebrities and consumerism in film, tv and music. The USA influences our lack of identity in the arts (in my opinion), and I say this guilty as charged, as my own influence has come from the USA. But living and breathing the stars and stripes and the southern way of life this month I realised how different our cultures are. 
This week marks my very first 4th of July. I hope to have a weekend planned on the lake with some friends and relaxing from going my regular 100 miles an hour. I've been burnt out and run down. Turns out going 12 hours a day with little sleep and food means that you will pay for that extra time by needing days in bed. So with the help of friends, I'm trying to take that extra moment to breathe a little and chill. 
Since its America's day of independence, I wanted to share with you a few things I've experienced and found to be a "culture shock". 
Today I held my first gun... Yes, I freaked out like a little girl as I held it with two fingers as far away from my body like it was a mouldy sandwich I use to pick out of my school bag. I'm sure my sheltered upbringing was amusing to watch, mainly coming from a country where guns aren't kept in the bedside drawer or stashed in a closet. My friend then got out his machine gun, and I was lost somewhere in awe and shock. I still can't believe that's "normal". 
I had my first "Cracker Barrell" experience, where my friends described it to be just like "grandma's cooking". As we walked up to the restaurant, I noticed banners of red, white and blue hanging down from off the awning of a porch that was filled with rocking chairs and occupied by hungry guests waiting to be seated. 
"Grandma's cooking" consisted of meat loaf, chicken dumplings, corn, biskets and gravy, country ham, mac & cheese, chicken fried chicken and grits.... Yes, I hope my Aussie readers are just as confused as I was. It turns out it's confirmed, American taste buds are in a league of their own. 
I keep a pocket knife in my car and mace in my hand and I walk streets alone at night and ask my friends to watch me as I walk a couple of houses down to visit another friend. It's a strange consciousness and something very different from traveling Australia alone playing shows and feeling very safe.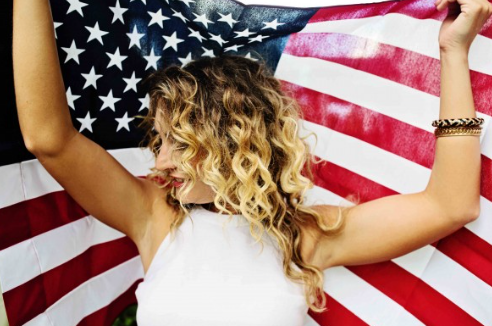 On an endearing note, I've never been so respected or treated so sweetly by a gentleman. In the last few months, I have had doors opened for me, I've been walked to my car, I've felt genuinely cared for without a man trying to skip to 3rd base and must commend American Mommas for raising their sons right... I've also learnt how to two-step. 
This month I attended my first CMA festival, saw Blake Shelton play a song at a local bar in 
Midtown, played my first show down on Broadway, watched my first Stanley Cup, did a full band studio demo with 2 songs, saw the release of a first major label single for my Nashville Dad Marty Morgan with Aaron Lewis Folded Flag with Big Machine Records, reached 10k followers on facebook and "totally pulled off" wearing red cowboy boots (Ted Mosby- How I Met Your Mother). 
They say that home is where the heart is, and Nashville has branded its mark on mine. I can dance to my own music. I feel alive and lit up every day. I have found so many incredible friends and family here. I spoke to my mum on the phone last week and said, "you know I'm never coming home, I'm going to grow old here". 
The Stars And Stripes have changed my life forever. I left Nashville with nothing but a fire in my belly in 2015. 
I've never been so broke in my life. I spent $10k on a 3 months trip. Sold all my guitars and my banjo, a computer... everything I could spare. Packed up everything into a storage unit. Walk 6 miles to a co-write while the glue in my shoes melted at the 100-degree heat and ate toast and $2 tacos for 3 weeks.... 
I landed on Australian shores on October 20, 2015 with less than $100 to my name and a little wish.. To call NASHVILLE my home... 
I still pinch myself that this came true.