It's a Saturday, I'm curled up on my comforter with throw rug over me, my MacBook on my lap and today's co-write stuck in rotation in my head. 
This week I've been hit hard with allergies, but it hasn't slowed me down. My days have been consisting of arriving at my first co-write at 10am and walking through the door to get home at midnight. 
I attended my first no.1 party since moving here, celebrating Dustin Lynch's "Seeing Red". I will have played 7 shows by the time I wrap up my last gig tonight and traveled 2 states, and will have sat through 6 co-writes after tomorrow. 
Well... am I allowed to say it...? 
After months of sad posts about missing home and feeling sorry for myself.... 
I FREAKING LOVE YOU NASHVILLE... I FEEL MORE AT HOME THEN I'VE EVER FELT... EVER!! 
For the first time I feel like I have found "my tribe", a community of people I love and adore right in my neighborhood. Touching souls with precious people in Australia has seen my beloved ones scattered like lost jewels across our landscape, but in Nashville we are all the same. The slightly fragile, deep thinkers, courageously putting our hearts on our sleeves to be hated, liked or loved as we share pieces of ourself to the world as we boldly dare to dream. 
Over the past few weeks I've spend a few days in Florida at the Key West Songwriters Festival. On a budget we stayed in possibly the most dirtiest backpackers hostel I've ever stayed in, although if you ask my Irish friend Warren it wasn't too bad. Although he was found most mornings sleeping on the deck chair with his hat still on his head as he never made it to bed. 
Life moves on, and it's funny I not only have closed a chapter on my Australian life. I have completely started a new book. The only thing I miss is my Mum but like everything else, we both have our own paths now and home doesn't feel that far away. 
I'm so proud of the work I've been producing. I really am starting to see some major growth and getting the wheels in motion here in the USA.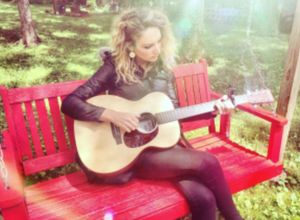 Reflecting on life until this moment I feel like it's all tested me for this point. I don't think I would have been ready to move to the other side of the world without finding my own strength. The last four and a half months were incredibly hard. Grasping onto things that didn't serve me when everything felt so new and scary. I made a little wish before I left Australia. I wished that if it was going to hurt, make it hurt hard. Make me feel pain, I wanted to be tested to see how resilient I have become. I have lost 17 pounds since crossing the sea from stress and heartache. However, my resilience didn't let me down. I am past the blue, past the hurt, past the lost, past the fear and I feel amazing, I have got a fire on my tail, a song in my head and so much gratitude in my heart. 
One of my co-writers said after feeling frustrated one day "I think it's all just an illusion, its all a dream, that big hit song, it's not real". I stopped and thought about it. I remember the people that rolled their eyes at me when I said I was moving to Nashville. I had no money, I had no idea how I was going to make it happen. All I had was a "knowing", I knew deeper than I've ever known anything that I would be moving to Nashville. So I commited to it. For 3 years I woke up, every step I took was to lead me to Nashville. I thought about it every second and worked towards it every day. As my friend continued on about never reaching "the dream" I pulled him up and said... "This is the dream isnt it?". 
I've spent a lot of my life thinking "I'll be happy when....". I'm such a driven person that my "when" is like a goal post that moves every time my goal gets bigger. My goal is to own my first house in 3 years time and have a 6 figure profit. As I sit here and write with a flutter in my heart I reflect on telling my co-writer... "This is the dream isn't it? We get to do what we love every day, we have opportunity in our arms reach, there are no more obstacles, there is no reason why we don't have a good chance of achieving what we desire. This is magic, this is the dream". 
Every day my spirit gets to dance in its own made up melody. My soul feels like it's being topped up. It's a strange feeling when you have everything you need and crave. After so many years of feeling broken, lost and misunderstood, I finally feel full, like nothing is missing anymore. I feel like I am a better version of me because I am truly more whole than I've ever felt before.