I'm currently sitting in a car traveling through Kentucky, absent-minded and lost in thoughts and heartache. My travel companion Candy jumps into the car and gives me a braclet she just bought me saying "With brave wings she flies". 
As I sit down to write this blog, I must warn that my energy is rather negative at the moment. I've had a marathon week navigating my way through deceit, bullies and cheats coming to a conclusion that when other core values don't align with mine, I need to remove them from my life and friends list. Ultimately taking a big exhale as I release dead weight and as enticing as it is to write a blog consumed by these unworthy people I stop myself right here... because these people don't deserve any more of my time. 
Today to reward myself for getting out of this situation half sane I bought a ticket to Florida, yes I'm taking a holiday to Key West for the Songwriters Festival in two weeks. The sun, the sand, incredibly talented songwriters, cocktails and connecting with equally driven, successful and inspiring go-getters as I soak up creativity with some of my best new buddies. 
The last month has been great; my little business is blooming. From writing 3-5 days a week, meetings, shows and playing for tips. I have spent two weeks of the month on a radio tour with Nebraska born and raised Candy Fernaux. We traveled through Alabama, Tennessee, Georgia, Kentucky, Indiana and Virgina. Our adventures range from chasing an Amish man, visiting Loretta Lyn's childhood home, FAME studios, hiding from Tornados to long drives across this beautiful country I've never seen before. 
Loretta Lynn and Crystal Gayle's childhood home 
Candy's savvy business mind with over 12 years of business owner experience in credit card processing with "Card Diva". Her drive completely fascinated me insisting that my time with her would be equivalent to a $1000 weekend business retreat. I've walked away setting a little goal for myself to purchase my first house in 3 years here in Nashville and crack a 6 figure profit.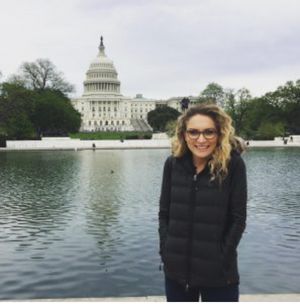 My spiritual life and personal life have kind of taken a back seat. I've spent the last few months trying to survive and pay rent and adjusting to this new world, grounding me from feeling connected to above. I've always been aware of the presence of my grandmother who I talk to every day, although this last week I've felt so hurt and alone from a heartbreak that for the first time in the longest time I got on my knees and prayed to God. Feeling so far from home and helpless I really believe faith is the only way I can pave a path forward. 
My personal life consisted of a phone call home every evening, I would feel guilty to spend my money on anything other than my business, besides a one-time movie ticket or a $5 bottle of wine on my birthday. My friends are so forgiving when I trade in an evening hanging with them in exchange to go home and call Australia. 
I've had some incredible publishing meetings and I've sat behind doors that alot of writers strive for years to walk through. I've decided to dedicate this next month to me. Greiving ghosts and my life in Australia one last time and surendering myself to the universe trusting that there is a reason for everything. 
Music is all I have, I feel like everything I touch that isnt music turns to ash in my hands. I feel the greatest sense of defeat in my personal life, I'm still speachless, still shoked, still numb. However the constent reminder that there is only one way forward and thats just to do me and follow my music path. 
"With brave wings she flies".