Katrina Burgoyne moved from Australia to Nashville with $15,000 and a dream. Restricted by her visa to making an income solely from playing music, she hit the ground running in the most competitive music city in the world. 'I would take a gig anywhere,' she says. 'I drove three hours to make $150; I was scared, broke and alone. But I promised myself that someday I would look back and think how amazing the time really was.' 
Burgoyne's newest single, '25 Cents in the Ashtray', sees her keep that promise to herself. It perfectly captures her memories of loading her beat-up car with fuel and praying that it would get her to Memphis for the next show, while also showcasing the storytelling and vocals that have seen her perform alongside acts like Kasey Chambers, Shane Nicholson, Catherine Britt and Troy Cassar-Daley. 
The single was produced by Burgoyne's boyfriend Stephen Kinney, who studied under multi Grammy Award winning engineer Steve Bishir, the mixer behind over 100 #1 Billboard-charting singles. Kinney was offered an internship at Ben Folds Studio on Nashville's Music Row, but instead chose to get a 'real job' and produce songs on the weekend as well as creating occasional demos with Burgoyne.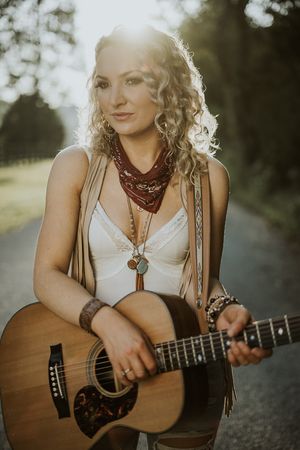 'After losing his job during the Covid pandemic, Steve and I started tracking my songs during lockdown,' says Burgoyne. 'We ended up making a record in our studio apartment in downtown Nashville, sending tracks to Australian players for banjo and mandolin. We sound-proofed the closet with whatever clothes we could find and tracked vocals in the dead of night when the apartment building was quiet. It was when "my music" really became "our music".' 
The music video for '25 Cents in the Ashtray' is also the result of the couple's collaboration. 'Creating this project has been a really wonderful journey for us to combine our passion for music, film and photography,' says Burgoyne. The video was filmed an hour south of Nashville on a quiet country road. They enlisted the help of Alex Jeffrey and Nathan Rogers for the project, with Rogers providing the beautiful Chevy pickup truck for the shoot. 
'Filming the video actually felt like another day on the road heading to a show,' says Burgoyne, 'except for having Steve squished under the dash trying to film.' Given Burgoyne normally drives to shows with no music playing, singing song ideas as she goes, the video was a fun, natural process, similar to the recording of the single itself. 
It's certainly a far cry from some of Burgoyne's previous experiences on camera, with the talented singer appearing on the 2014 series of The Bachelor with Blake Garvey and Sam Frost, the latter of which she still keeps in touch with. She's come a long way since her brief reality stint, having toured across Texas, Louisiana, Alabama and Tennessee, and up through Virginia, West Virginia, New York and more. It's no wonder Catherine Britt called Burgoyne 'one of the hardest-working and best songwriters that Australia has seen or produced in a long time. It makes perfect sense that she continues her journey and growth in Nashville amongst the best in the world.' 
Burgoyne has previously tasted success with the two Top 10 CMC singles 'Ghost' and 'I Wasn't Gonna Cry'. Her song 'White Flag' also peaked at #7 on CMR, while the album of the same name went Top 10 on the ARIA Country Albums chart in 2011. She's also written for many artists, including a track for Lisa McHugh that was the most Shazammed song in all of Ireland. McHugh is a frequent writing partner and their songs have had over 800,000 streams on Spotify alone. 
The release of '25 Cents in the Ashtray' is an exciting moment in Burgoyne's already impressive career and sees her open her Nashville chapter – on record, at least – in an unforgettable way. With plenty more music to come, Burgoyne has positioned herself as one of Australia's most exciting talents in Nashville.